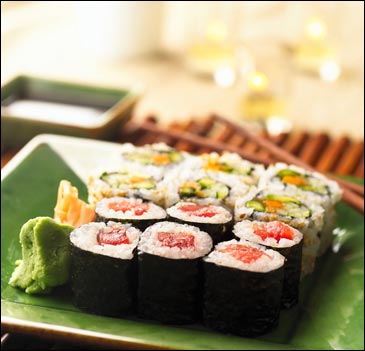 This recipe uses raw sushi mashed avocado instead of rice, the combination of fresh vegetables and algae for a real treat. It would make a great snack, while figure skating or football, depending on what you like best. And hey, if boys do not like, it simply means that there is more for you to enjoy!
Make sure you let me know what you think of my health first vegan recipes – if you're going to do if you like, if you want to see more of them.
Preparation time: 10 min. Laminating / Cutting time: 15 min.
The time from start to eating: 25 min.
Enough for about 15 sushi pieces.
Raw Sushi Ingredients
2 avocados, mashed
1 / 2 cucumber, diced or 1 cup sprouted quinoa
Pinch of salt
1 / 2 cucumber, cut into julienne
1 / 2 green pepper, cut into thin strips
1 cup fresh spinach
2 green onions, cut into strips
4 sheets nori
Raw Sushi Recipe Directions
Here is a delicious recipe from the heart of God's own country – Kerala. Located in southern India, the country has become a world class tourist destination. Thank you to its breathtaking beauty and fine cuisine, Kerala, whose name derives from "Kera" which means "coconut" is fast becoming one of the most visited places in Asia.
This recipe is very popular with my family. I made some changes in the amount of spice to keep it not too hot for the Western palate.
To serve four, you will need:
600 g leg of lamb cut into small pieces
3 small onions, finely chopped
Half an onion separately with ground spices
10 garlic cloves
2 inch ginger
5 green chillies
A few sprigs of coriander or cilantro
A few sprigs curry leaves
Mint leaves
250 ml coconut milk (Please see explanation below)
1 teaspoon chili powder
1 teaspoon ground coriander
½ teaspoon turmeric powder
Two pieces of cinnamon, 2 inches
Three cardamoms
Three pieces of cloves
1 ½ c. tsp salt (add or decrease to taste)
4 tablespoons coconut oil (you can also use olive oil)
This wonderful fresh lemon cake is the perfect go-to recipe for special occasions. This is not a quick recipe, but believe me, it's worth. The next time you have an opportunity to call for a special dessert, try to give this recipe. Birthdays, retirements, showers, dinner, etc. Whatever the reason, you get a lot of compliments on them.
Fresh lemon cake
2 cups cake flour
2 teaspoons baking powder
Tsp salt 1 / 4
1 cup milk, room temperature
1 / 2 teaspoon vanilla
3 / 4 cup butter, softened
1 1 / 4 cups sugar
3 large eggs, at room temperature
When it comes to the best food for our family, we choose the best ingredients that promote healthy living while offering an exceptional taste. Fortunately, it is now easier than ever to find the recipes we want via the Internet. For my own family, I add this wonderfully delicious salsa, our Mexican food menu plan.
Why choose this salsa?
The answer is simple! It is super easy to do, and everyone loves him! He never left, and when it comes to the house, you can bet he has a lot of my family. This is a great way to add a meal or even eat a snack. Filled with delicious fresh fruits and vegetables is one salsa your family issues again and again.
Favorite recipe for salsa
Ingredients:
4 medium tomatoes, peeled and chopped
Onion 1 / 2 cup finely chopped (up to 1 cup)
1 / 2 cup celery, finely chopped
1 / 4 cup finely chopped fresh green pepper (paprika)
Oil 1 / 4 cup
2 tablespoons finely chopped fresh green chilies
2 tablespoons red wine vinegar
1 teaspoon mustard seeds
C. 1 tsp cilantro (coriander) seeds, crushed (or fresh coriander)
1 teaspoon salt
In this dish we'll simply put collectively a few of the preferred meals sources of biotin into just one not too troublesome, savory meal that's sure to please your taste buds as well as can help you get hold of these biotin benefits.
This wonderful recipe normally takes roughly 1 hour to prepared and will guarantee sufficient for eight portions.
INGREDIENTS
FOR THE SAUCE
½ cup Sour Cream
2 teaspoons Freshly Squeezed Lemon Juice
¼ cup Natural Further-Virgin Olive Oil
1 tbsp Well Chopped Chives (garden-contemporary can be greatest, however freeze-dried will also do)
½ tbsp Chopped Tarragon (newly harvested rules, but dehydrated might be enough in this case, too)
Fruit smoothies are as fruit drink which is made by the use of a combination of fruits. It can be used as a snack and even as a breakfast. Since this beverage drink is made mainly of fruits, it means it is made of fibers, many vitamins and minerals this makes it very healthy for everyone that takes it.
Fruit smoothies could be prepared simply; you can also make this drink with just the fruits, a liquid and a blender. So simple as this recipe is it may be prepared in lots of different ways turning out into totally different style and exquisite sights.
Whereas there are a whole bunch of how to make them, with varying tastes and textures, listed below are the fundamentals of what you want on your wonderful smoothies; to begin with you must take into consideration the fruits you want to use like, pineapple, strawberries, bananas, mangoes, oranges, any fruit you need is simply supreme on your fruit smoothies as long as it's what you want.